Post by Bonnie
For our Tiny Office project, we've committed to using as many used materials as possible. This includes lumber, roofing, interior walls, flooring, and more. Joe and I have been heavily involved in the world of reuse for over 5 years at the non-profit we help run in Baltimore City, and we have learned that there are a lot more resources out there than people realize! Here are some great places you can find used items in the Baltimore/D.C. area, as well as around the country:
Baltimore/D.C. Area:
Baltimore Free Store
www.baltimorefreestore.org
This is the organization Joe and I have been volunteering with for over five years. They take donations of household goods, clothing, small furniture, shoes, and much more. Everything is given away completely for free to whoever wants it! The tricky part is that items are accepted/given on a monthly basis while the organization looks for a new storefront. This is a great resource for small, interesting items that could be turned into unique decorative and craft projects in your space.
Community Forklift
www.communityforklift.com
4671 Tanglewood Drive, Edmonston MD 20781
Community Forklift takes donated, salvaged, and surplus building materials, and re-sells inexpensively to the public. Joe discovered Community Forklift this year, and it has quickly become his favorite place to look for supplies. They are a project of
Sustainable Community Initiatives
. Community forklift is big but not overwhelming. The people that work there are very friendly and helpful. They have a great selection of used, usable items, and even a section of really cool antique items. It can be a bit tricky to find but well worth the visit.

The Loading Dock
www.loadingdock.org
2 North Kresson Street
,
Baltimore, MD 21224

The Loading Dock is "a building materials reuse facility, offering great deals and interesting finds to people who need inexpensive building materials and are interested in keeping materials out of the waste stream." We have used them multiple times over the years, but less so recently. You pay a $10/year membership to shop there, and are a little more expensive than some of the other places in the area.
Second Chance
www.secondchanceinc.org
1700 Ridgely Street, Baltimore, MD 21230
Another resource in Baltimore, Second Chance is enormous. Multiple warehouses house thousands of building materials, pieces of furniture, and so much more. If you've got some time to spend walking around and looking through items, you can find a lot of what you need here. It can be a bit overwhelming if you've never been before, so be sure to ask for help finding items. (And be prepared to get lost inside).
Anywhere:
Freecycle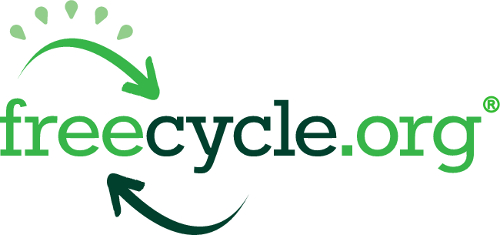 www.freecycle.org
Freecycle is "a grassroots and entirely nonprofit movement of people who are giving (and getting) stuff for free in their own towns." Anyone is welcome and encouraged to sign up to receive updates about what others in their area are giving away - for free - through the Freecycle network. If you're quick, you can get some really great things on here. Signing up is completely free.
Craigslist
www.craigslist.org
You can find pretty much everything on Craigslist! Similar to Freecycle, you can see what people in your area are giving away for free, as well as selling. Many people use Craiglist to sell things that can be useful for a building project, including lumber, tools, and windows. For our T.O. project, we got our "roofing" and lots of lumber from someone on Craigslist. It's free to use, but you've got to be quick, and unfortunately there are more than a few scammers on there. But definitely worth using!
ReStore
www.habitat.org/restores
Habitat for Humanity ReStores are located all over the country. "ReStores sell new and gently-used home improvement goods, furniture, home accessories, building materials and appliances to the public at a fraction of the retail price. The proceeds are used by our local Habitat for Humanity affiliates to help build and renovate more homes and communities."
Yard Sales
It's not just hipsters and thrifty moms who can benefits from yard sale finds!
Additional Ideas:
- You can often find unwanted pallets outside of restaurants and stores. Be sure to ASK if you can have them...often stores will return them for reuse.
*Not all pallet wood should be used to build with. Look for Joe's tips on using pallet wood in a coming post*
- You might be surprised what resources your own neighborhood and family might have. Don't be afraid to ask! (For our project, we are siding the entire building with leftover siding from a project my dad was working on).
We'll be sure to let you know about every reused item that makes its way into our T.O.!
(This is by no means a comprehensive list. Please feel free to list additional resources in the comments section, and we will get another post together in the future!)